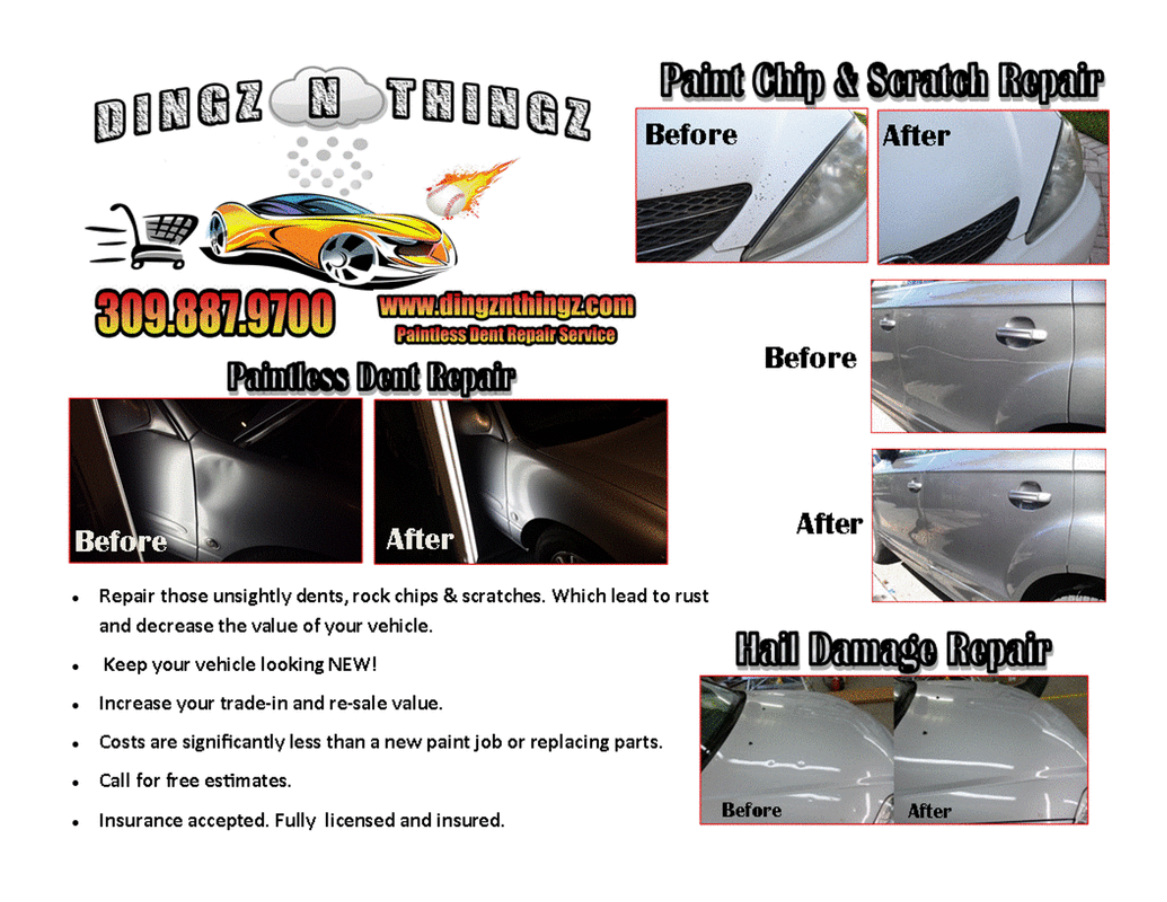 MOBILE SERVICE
TO YOUR HOME OR BUSINESS

Dingz N Thingz Mobile Service provides a solution that saves you time and money because we are more than happy to come to you!!

We also know that in today's world, you value your time more then ever. So do we, that is why we understand your need for reliable, quality work that can save you time as well as money.
PAINTLESS DENT REPAIR
DENTS - DINGS - CREASES & HAIL DAMAGE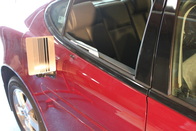 PDR – The fine "ART" of Paintless Dent Removal is a cost-efficient technique for removing dings, creases and minor dents without using paint or fillers. Dingz N Thingz utilizes a handcrafted repair method using unique skill to transform your dent or ding into a work of art! PDR provides time saving results and restores instant resale value to your vehicle!!

The PDR process is simple, but performing it correctly is another matter. We use crafted tools that are needed to gain access to the damaged panel, while using a special board that casts a reflection of curvature across the ding or dent. Tom uses eye-hand coordination to pin point the tip of the tool on the exact location of the door ding or dent. Using quality and controlled pressure, your dented panel is meticulously removed without sacrificing your vehicles resale value and most important, the integrity of your finish.

All dings and dents are not created equal. Nor are PDR technicians.It takes months of training and years of experience for a PDR technician to become an expert in his craft. Determining the best way to remove a ding, crease or minor dent takes knowledge and experience to ensure flawless results.

Paintless Dent Repair Prices
Paintless dent removal is a great way to remove dents, dings, creases and hail damage and hail damage on cars, trucks and SUV's, motorcycles or even you motor home. It is difficult to price PDR without actually seeing the damage in person. Here are some guidelines to estimate an approximate price range. Many factors will affect the cost of paintless dent removal including location, depth of dent, possible access points, braces and support behind the dent and electronics just to name a few. Many dents appear smaller, keeping mind a dent expands both inward and outward. That is why it is best to have us take a look at your dent and we will give you a free written estimate. Dingz N Thingz will save you money on your next repair.
1" diameter dents cost $85-$100
1-1/2" diameter cost $100-$125
2" diameter cost $125-$150
2-1/2" diameter cost $150-$200
Additional dents on the same panel are 50% of the price of a single dent price. In other words, 3 - $100 dents on the same door will cost $200. The first dent is $100 and the next two are $50 each. All the dents must be on the same panel of the vehicle to receive a discount. If they are on 2 different panels, the single dent price will apply to both. The largest dent is always the first dent priced per panel.
The prices above are estimates for dents of average depth and easy access. Prices do not include charges for removal and replacement of such things as head liners, door panels and other parts that may need to be removed to gain access to the back of the dented area. Every effort is made to minimize these costs.
We provide free estimates and are favored by most insurance companies. Call or email us today for a quote.